Creating a professional and powerful resume is a key to impress an employer. Majority of resumes are rejected because they are written unprofessionally and are irrelevant to the desired jobs. People frequently mail us to ask questions about resume writing. So, today we decided to write a brief discussion on the top six FAQ About Resume Writing. 
1. How to select the Best resume format?
It is a crucial part of resume writing as it determines how you represent your qualifications, skills, job experiences in front of the recruiter. Different resume format highlight different sections so first you have to understand which section you need highlight under which criteria. Now have look on basic of different resume formats.
A brief description of types of format and their purpose are as follows :
Reverse-Chronological– It is simplest and most widely preferred by recruiters. It mainly highlights your relevant experience, this format lists your experience first and then the qualification in reverse order means most recent first. It can be more clear from below example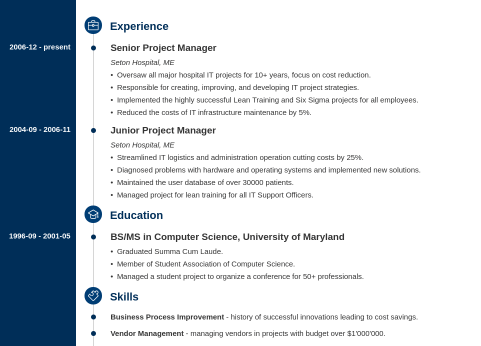 Recommended: How to Write Work Experience in Resume? | [With Examples]
Functional – It mainly highlight skills and recommended for those who are seeking a career change. If your experience is irrelevant for the job but you have strong skills then go for the functional format. Best for those who have a non-traditional career path or had change jobs frequently.
Hybrid (mixed) – It is the combination of the chronological and functional format and recommended for those who have mixed relevant skills and similar work experience.
Above brief descriptions about types of format and their purposes will help you to choose the resume format which fits your condition.
2. How long resume should be?
This is the most common question raised by job seekers. Definitely, the short resume has an advantage over long one as average time spends by a recruiter on a resume is about 6 seconds. Try to limit your resume to a single page. However, for more experience candidates it's fine to have a two-page resume when your experience does not comfortably fit onto one page. But under any circumstances, it is not recommended to have more than a two-page resume. 
3. Include a Photo on Your Resume is helpful?
This is always being a point of discussion, but depending on circumstances it may be yes or no. It is never recommended to attach a photo on a resume. However, in some case where circumstances demands put it on the top and photo should be professional.
4. Should I add contact detail on a resume?
Always add proper contact detail in a resume, include your full name followed by professional mail id and contact number. It is highly recommended to put professional email id in a resume. You are not going to believe this but this is one of the major reason for rejection of resume.
5. Does adding hobbies in the resume is helpful?
It is never recommended until it matches with desire job profile. You should add hobbies only if they are relevant to the job you are applying else leave it because nobody is interested in such useless stuff.
6. Why hire a professional to make a Resume?
Most of us don't know how to write a professional resume they just copy from others. People consider it as a document required to apply for the job but it is actually your first chance to impress recruiters.
Most of the people have relevant experience and strong skills but they don't know the right way to represent it. A person who fit for a job but rejected only due to unprofessional resume. 
We spend lots of money on clothes, movies, traveling, and gadgets but when it's come to our future we think it is a waste of money. Each Job comes with its own duties and responsibilities. Most jobs are best suited to workers who are specially trained and have the necessary credentials in that line of work. It will work best for you if you hire a professional to make the resume.