Your experience is a most important section in your resume and recruiter is mainly concern about your experience. So it is very important to represent it in the right way to impress the recruiter. Here are some tips about how to write work experience in the resume with examples
Experience section position and order 
If your work experience is relevant to the job you are applying, you need to follow chronological format that is your experience should be on top after objective in reverse order means the most recent first.
Also Read: How to select the Best resume format?
Experience under chronological format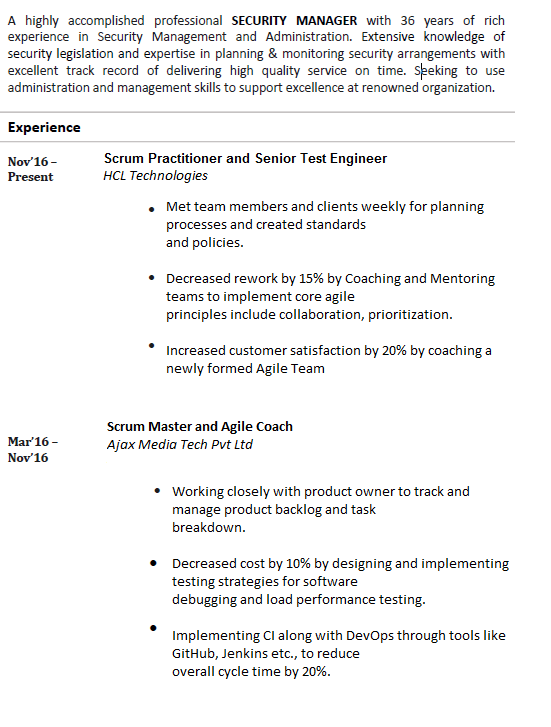 Describe briefly
Don't describe your experience in deep, it needs to be short and relevant. Give a brief summary of your role and accomplishment under each company in points.
Example
Responsible for Quality Assurance and Testing for USAA, USA and France telecom projects.
Met team members and clients weekly for planning processes and created standards and policies.
Mention job title and company name
Do mention your job title and name of the company at the top under the experience of each company.
Example
Scrum Master and Test Lead
Harman Connected Services( formerly Aditi Technologies)
Recent Experience should be up to 15 years
It is highly recommended not to have more than 2 pages resume. If you have 25 years of experience and you add all of them it will make your resume very length. So it is recommended not to mention your experience more than 15 years.
Use bullet points
Bullet point increases the visibility of each point and structure and makes your experience section look professional.
Also Read: 12 Effective Resume Writing Tips For Professional Resume Writing
Highlight your achievement, responsibilities, and skills
Your work experience representation is the most crucial part. People have strong relevant work experience but fail to express to impress the recruiter. Recruiter mainly concerns with your accomplishment and skills that you developed in previous work. Adding some figure as a achievement will increase the chance of resume selection. But do not provide any information which is not true or which you can't offer to your future employer.
Example
Decreased rework by 15% by Coaching and Mentoring teams to implement core agile principles include collaboration, prioritization.
Implementing CI along with DevOps through tools like GitHub, Jenkins etc., to reduce overall cycle time by 20%.
Implementing CI along with DevOps through tools like GitHub, Jenkins etc, to reduce overall cycle time by 20%.
Don't add irrelevant stuff
One of the biggest misconceptions among the people is that they think more responsibilities and skill they mention, the chances of getting interview call will be high. Nobody is interested in useless stuff if you apply for electronic profile and you mention your programming skill it is just useless stuff from recruiter point of view.  Only your relevant experience works for you and adding irrelevant experience only kill your space in a resume.

Hope above tips will help you to write your experience in a correct way. If have any query related to resume writing drop a mail at [email protected].
What others are reading