This Article talks about top resume writing tips for 2021 that will help you to make your resume stand out from the competition. Your resume is your marketing tool that speaks about your experiences, qualifications, and skills. So, it is very important that your resume should be well-written that will represent you as a strong candidate. 
Is your resume good enough to seek recruiter's attention?
If not and you don't know how to create a professional resume that stands out. Here are top 12 resume writing tips and samples for resume writing.
1. Select the Correct resume format
Selecting the right resume format is a very first and important step. It is very important for you to highlight those sections which is most required for the job.
Different resume format highlight different aspects. 
Resume format with their brief introduction are as :
1. Reverse-Chronological– It is most common and best format to layout your work experience. This format highlights your work experiences in reverse order, means most recent or current experience come first after the object or introduction.
If you have relevant work experience to the job you are applying, Reverse-Chronological is best for you.
Example:
June 2016 – Present

Maintenance Manager
Reliance Industries Limited

Providing mechanical maintenance support, which led to a 10% decrease in equipment downtime.

Proposed a job planning and manpower management model that helped planning the daily jobs with 92% compliance.

Introduced an innovative scheduling system that slashed repair times by 30%

June 2015 – December 2015

Industrial Intern
Eaton Technology

Successfully reduced the installation time by 40% using the recommended design, was appraised by the US counterparts and got a PPO from the company.

Generated new strategies and plans for improving quality of the processes
2.Functional – It mainly highlight skills and recommended for those who are seeking a career change. In case you don't have relevant work experience to the job you are applying but have some skills that recruiters wants. Functional format is recommended for you.
3.Hybrid (mixed) – It is the combination of the chronological and functional format and recommended for those who have mixed relevant skills and similar work experience.
Also Read:Top Six Frequently Asked Question About Resume Writing
2. Highlight Main Sections
Recruiters spend an average of six seconds reviewing an individual resume, it is very important that all your important sections like introduction(objective),experience, skills, education and contact details are mentioned in a proper way.
Introduction(objective): Your introduction or objective should clearly speaks about your career goals. Create your introduction or objective according to job post, add top relevant skills, achievement and goals that full fill the job requirements and represent you as a strong candidate.
Example:
For Team Leader
Focused and quick-learner with over 5 years experience in team leading. Proficient in developing and maintaining customer relationships. Seeking to build a stable position in a renowned organization where I can utilize my skills and experience in enhancing the company's productivity and reputation.
Work Experience: This is the most important section for which recruiters are mainly concern. So one should be very careful while writing work experience.
Describe your each experience in 2-5 points with job title, company name and working period. Your work experience should clearly outline achievement, responsibilities, and Skills.
Example:
Scrum Master and Agile Coach
Ajax Media Tech Pvt Ltd
May 2016- Present

Accelerated average turn-around time by transforming the 30 member delivery Team from Traditional Project Techniques to Agile Practice which was a major milestone for both, Me and Organization.

Met team members and clients weekly for planning processes and created standards and policies.

Increased customer satisfaction by 20% by coaching a newly formed Agile Team.

Helped the current organization in Agile Transformation journey and trained the delivery team in Agile Practices.
Skills: List your skills which is relevant to the job you are going to apply. Adding numbers of skills do not make any sense.
Suppose you are apply for civil engineer and you add IT skills or Writing skills it will not add any value to your resume. Better to divide your skills into categories: soft skills and hard skills.
Soft Skills:  include your personality trait like communication skills, interpersonal skills
Hard skills include the specific technical knowledge and abilities like C++, java, python.
Contact Details: No matter which resume format are you using, put you contact details on the top of you resume.
Your contact detail section include contact number, e-mail address and post address. You can also add you LinkedIn id under this section.
Education: Mention your graduation degree with college name and passing year.
Example:
B.E. in Mechanical Engineering, 2016
Birla Institute of Technology and Science, Pilani
3. Work Experience Should be Relevant and Recent
Your most relevant experience should be from the past 15 years. If you have 25 years of work experience and you add all of them, it makes your resume very lengthy.
Put only the most recent and relevant experience that comfortably fit in the total length of two pages resume.   
Also Read :How to Write Work Experience in Resume? | [With Examples]
4. Use Professional Templates
You might have good skills and countable work experience but if you don't represent properly it may get ignored by the recruiter. So always do care that your template represents all important aspect in a professional manner.
5. Don't Write Personal Stuff
There is no need to write personal information like your age, birthday, height, weight, marital status, religious preference, children, etc., unless the position requires it.
6. Professional E-mail
People generally don't care about email id but this is also one of the reasons for rejection of resume.Your email address represent professional identity. 
Don't use any funny and obscene words in your email address

Your e-mail id should not contain your pet names

Always use short and professional email id on a resume. 
From below examples it will be more clear to you to create your professional e-mail id.
Example:
[email protected]  ✓ Right

[email protected]   ✓ Right

[email protected]    ✓ Right
7. Font Style and Size
Don't use fancy fonts which may harder to read. Use professional font style like Arial, Calibri or Helvetica which is easy to read. The size should be like that it is easy to read. For headline it should be 12-14 and text under headline should be 10-11. 
8. Limit to a Single Page 
Single page resume which conveys required details professionally is highly recommended. Try to limit your resume in a single page but in case your experience doesn't comfortably fit in a single page then make it two-page. Two-pages resume is OK for more experienced (10 + years exp) candidates. For an entry-level candidate, it is recommended to have a single page resume.
9. Mention your Training and Certification 
Always mention your certification because it may help you to stand out. If a candidate has the same qualification and experience in comparison to you but doesn't have any certification and training relevant to job profile then you definitely have an advantage over him or her.
10. Don't lie 
In order to impress recruiter never write anything which is not true, overstatement and anything which you can't offer. You can't fool the recruiter, they are far more intelligent and observable than you think.
11. Include Your LinkedIn Profile and Personal Websites URLs 
It is always recommended to add your linkedIn profile url under your contact details. Including linkedIn id url is a good way to attract recruiters' attention and offer extra details.
If you have your own blog or personal website which may found relevant to job, also mention it in your resume.
12. Consult Professional
80% of professionally written resume get an immediate response, so don't feel ashamed to take help from professionals, it is very important that your resume should be attention seeking to get chance for an interview. There are many career portals provides Affordable and Professional Resume Writing Service in India
Also Read : Top 5 Benefits of Resume Writing Services
Resume Sample :
Senior Accountant Resume :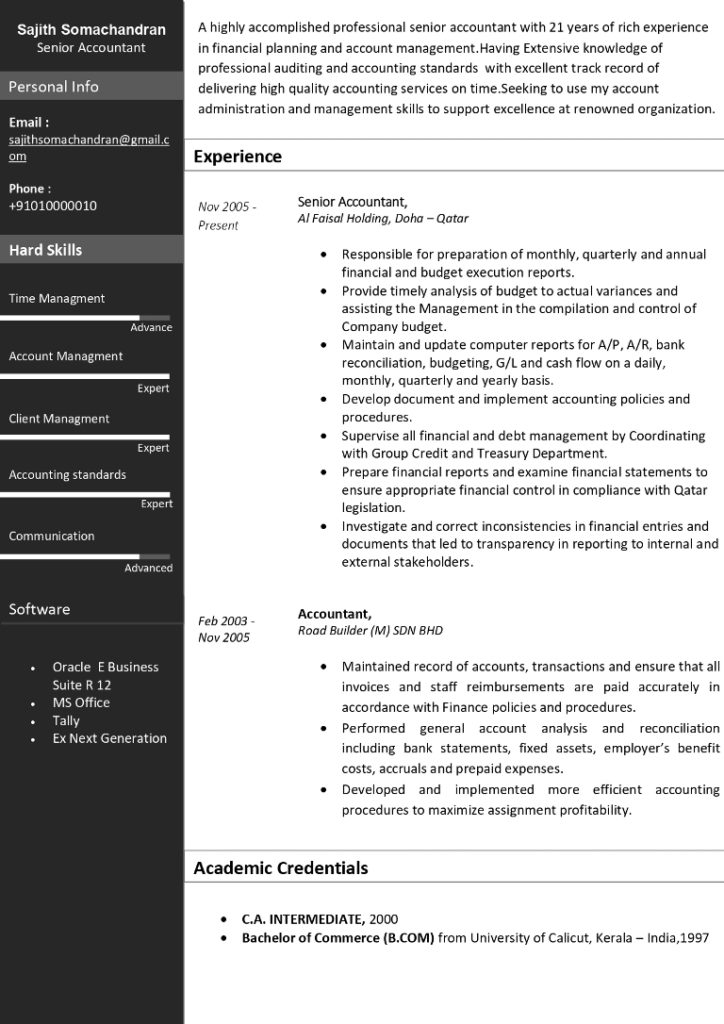 Civil Engineer Resume :
Fresher Resume :